Epson EH-TW4500 Projector
Condition: Used
KEY FEATURES:
Deep, dark blacks, crystal clear detail – UltraBlack technology with an unprecedented 200,000:1 contrast ratio
Rich, vibrant colour – latest generation D7 3-chip optical engine with 3LCD C2Fine® technology
Superior video quality – Silicon Optix HQV Reon-VX processor minimises noise and jaggies generating a more natural looking image
Refined Frame Interpolation – Smooth image movement, even in high speed scenes
The Epson EH-TW4500 sets a new benchmark in 1080p High Definition home theatre projection. The EH-TW4500 is targeted to satisfy the most discerning of home theatre enthusiasts seeking best-in-class contrast ratio and superb picture quality. The EH-TW4500 can be used on a table top, or as the centrepiece of a full home theatre installation.
Enjoy the Home Theatre Experience in a way you never thought possible
With unrivalled Silicon Optix HQV Reon-VX video processing and a best-in-class 200,000:1 contrast ratio, Epson's flagship EH-TW4500 projector offers the most discerning home theatre enthusiast a stunning visual experience. Whether you're watching movies or sports, this 1080p projector ensures amazing image quality with the latest generation Epson D7 chip, UltraBlackTM technology and a bright 1,600 lumens of light output.
With innovative colour adjustment features and a state-of-the-art Fujinon lens, a brand trusted by renowned Hollywood filmmakers, the EH-TW4500 delivers superb video performance. And, with Epson's 3LCD, 3-chip optical engine, it offers such incredible quality, you're sure to achieve a true cinematic experience. The EH-TW4500 brings big-screen entertainment home in a whole new way.
Silicon Optix HQV Reon-VX processor
The Silicon Optix HQV processor is the reference standard in deinterlacing and scaling. With standard definition (SD) and high definition (HD) interlaced content (DVDs, TV shows, 1080i HDTV broadcasts), the HQV Reon-VX processor reduces jagged edges on low angle solid lines and flat edges. This superior video processor minimizes MPEG compression-related artifacts, such as mosquito noise and restores the image to a more natural picture.

3LCD technology – for amazing quality and colour
3LCD technology delivers amazing colour and detail. Whether it's a blockbuster movie or live sporting event, 3LCD technology takes video performance to the next level. Delivering legendary image quality, this innovative technology always ensures a thrilling cinematic experience.

OptiCinemaTM lens system
The OptiCinema lens system is a precision, high quality optical grade system. Co-developed with Fujinon, a top supplier of precision camera optics to the world's leading HD camera makers, the system offers:
Maximum picture uniformity
Clarity across the entire screen
Freedom from colour fringing
Precision focus with 2.1x zoom
Maximum installation flexibility with 96% vertical / 47% horizontal lens shift
UltraBlack technology and Vertical Alignment
Achieve incredibly deep blacks with an astounding 200,000:1 contrast ratio, UltraBlack technology and Epson's exclusive Vertical Alignment (VA) LCD technology. With VA LCD technology, opaque (black) is the natural state. Signal voltage is applied to increase translucence (transmittance) as needed. This is a fundamental design and performance advantage – a complete rethinking of LCD chip design
FineFrame interpolation processing technology
Film is encoded on Blu-ray at 24 frames per second. FineFrame deconstructs and reconstructs these sources for a 1080p frame rate output of up to 120Hz, virtually eliminating flicker and frame-to-frame judder. The 4:4 pulldown function also makes corrections for improperly encoded sources, and features a reverse 2:3 pulldown detection and correction function.
Energy-efficient E-TORL lamp
The innovative E-TORL lamp, exclusively from Epson, is a reliable performer that delivers more lumens per watt and lasts up to 4,000 hours. Switch the projector to High Brightness Mode and the E-TORL lamp still produces up to 4,000 hours of light performance. The special E-TORL design minimizes both light diffraction and light leakage, providing the ultimate in lamp longevity.
Optional cable cover
The optional attractive colour coded cable cover, continuing the clean lines of the projector and hiding away untidy cabling.
Connectivity Panel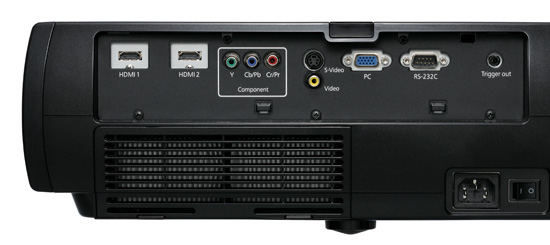 PRODUCT TYPE

Home Theatre Projectors

PRODUCT NAME

Epson EH-TW4500

PRODUCT CODE

V11H337353

PROJECTION SYSTEM

RGB Liquid Crystal Display

PROJECTION METHOD

Front / Rear / Ceiling Mount

SPECIFICATION OF MAIN PARTS

LCD

Size
0.74 inches wide D7 panel with MLA
Driving method
Poly-Silicon TFT Active Matrix
Native resolution
1080P Full HD (1920 x 1080)
Pixel number
2073600 pixels (1920 x 1080 pixels) x 3
Aspect ratio
16:9
Pixel arrangement
Stripe
Refresh Rate
100Hz or 120Hz (based on input signal)

PROJECTION LENS

Type
manual: zoom / focus
F-number
2.0 - 3.17
Focus length
22.5 - 47.2mm
Zoom ratio
1:2.1

LAMP

Type
200 W UHE E-TORL Lamp

SCREEN SIZE (PROJECTED DISTANCE)

30 to 300 inch (0.87m to 9.03m) (Wide)
30 to 300 inch (1.88m to 19.15m) (Tele)

LENS SHIFT RANGE

Vertical: 96.3% max. (upward & downwards)
Horizontal: 47.1% max. (Left and Right)

BRIGHTNESS

Normal Mode
1,600 Lumens Light Output
1,600 Lumens Colour Light Output
Colour Mode ( Dynamic, Zoom: Wide, Lens shift: V5.5 / H Centre )
*For further information on Colour Light Output click here

CONTRAST

200,000:1 ( Colour Mode: Dynamic, Zoom: Wide, Lens shift: : V10 / H Centre , Auto iris: On )

COLOUR PROCESSING

Full 10 bit

COLOUR REPRODUCTIVITY

Full Colour (1.07 Billion Colours)

COLOUR SPACE

115% of NTSC

VIDEO QUALITY

Interlace - Progressive conversion 3D Y/C separation, Noise reduction, Mosquito NR, Block NR

EFFECTIVE SCANNING FREQUENCY RANGE (Digital)

PIXEL CLOCK
13.5MHz to 150MHz
HORIZONTAL
15 to 80KHz
VERTICAL
24, 50 to 85Hz

ADJUSTMENT FUNCTION

PROJECTOR / REMOTE CONTROL
Brightness / Contrast / Tint / Saturation / Input signal etc.
TILT ANGLE
0 to 8.0 degrees
CONTRAST ENHANCEMENT
1 / 2 / 3 / Off
SUPER-RESOLUTION
1 / 2 / 3 / Off

COLOUR MODE

Dynamic, Living Room, Natural, Theatre, Theatre Black 1, Theatre Black 2, x.v. Color
EPSON CINEMA FILTER

Controlled automatically with colour mode
(ON: Natural / Theatre / Theatre Black 1 / Theatre Black 2 / x.v.Color, OFF: Dynamic / Living room)

AUTO IRIS
Controlled automatically adjusting to video source. (Available at all colour modes except x.v.Color; user selectable Off/Normal/Fast on OSD)
EPSON SUPER WHITE

Controlled automatically adjusting to video source (Available at Natural/Theatre/Theatre Black 1 and 2; user selectable ON/OFF on OSD)

4:4 Pull Down (1080p/24p, 1080/60i, or 480i capability)

On/Off, convert 3:2 pull down signal to 4:4 pull down (Default on:1080/24p, Default off:1080/60i or 480i, HDMI & Component Input)

ASPECT MODE

Auto / Normal / Full / Zoom / Wide

ANALOGUE RGB I/O

DISPLAY PERFORMANCE
Native
1080p
Resize
1280 x 1024 / 1360 x 768 / 1024 x 768 / 800 x 600 / 640 x 480
INPUT SIGNAL
Signal type
Separate signal
Video signal
Analog (0.7V p-p,75 ohm/ Mac0.714Vp-p, 75ohm)
Sync.signal
Separate (positive & negative, bi-polarity 2-5Vpp) / Composite (positive & negative, bi-polarity 2-5Vpp) / Sync-on-green (negative, 0.3Vpp)
INPUT TERMINAL
Video
Mini D-sub 15 pin x 1 Blue molding

HDMI Ver.1.3

DISPLAY PERFORMANCE
Native
1080p
Video standard
480i / 576i / 480p / 576p / 720p / 1080i / 1080p
Video signal
TMDS ( Signal for HDMI)
Input Terminal
HDMI x 2 (HDCP)

VIDEO I/O

COMPONENT INPUT

INPUT SIGNAL
Video standard
480i / 576i / 480p / 576p / 720p / 1080i / 1080p
Video signal
Component Video (Analog Y level 0.7V 75 ohm / Cr Cb level +/-0.35V 75 ohm / sync. negative 0.3V or 3-state +/-0.3V on Y)
$(document).ready(function() { var zoomCollection = '.large-image img.product-image-zoom'; $( zoomCollection ).elevateZoom({ zoomType : "lens", lensSize :"350", easing:true, gallery:'thumb-slider', cursor: 'pointer', galleryActiveClass: "active" }); $('.large-image img.product-image-zoom').magnificPopup({ items: [ {src: 'https://www.avprojection.com/image/cache/catalog/product_image/Epson-EH-TW4500-1000x1000.jpg'},{src: 'https://www.avprojection.com/image/cache/catalog/product_image/Epson-EH-TW4500_2-1000x1000.jpg'},{src: 'https://www.avprojection.com/image/cache/catalog/product_image/Epson-EH-TW4500_1-1000x1000.jpg'}, ], gallery: { enabled: true, preload: [0,2] }, type: 'image', mainClass: 'mfp-fade', callbacks: { open: function() { var activeIndex = parseInt($('#thumb-slider .img.active').attr('data-index')); var magnificPopup = $.magnificPopup.instance; magnificPopup.goTo(activeIndex); } } }); });

Related Products